Zhiyun Molus X100
Lightweight yet mighty enough, MOLUS X100 is ready to upend your knowledge of COB lights. Thanks to the innovate cooling technology, the compact body enables professional power output, giving you the simplest and most efficient experience ever.
100W Powerful Output
Boasting an excellent combination of portability and pro performance, X100 frees you from traditional heavy equipment with only 385g in a palm size and a stable 100W max output, letting you embrace full creativity.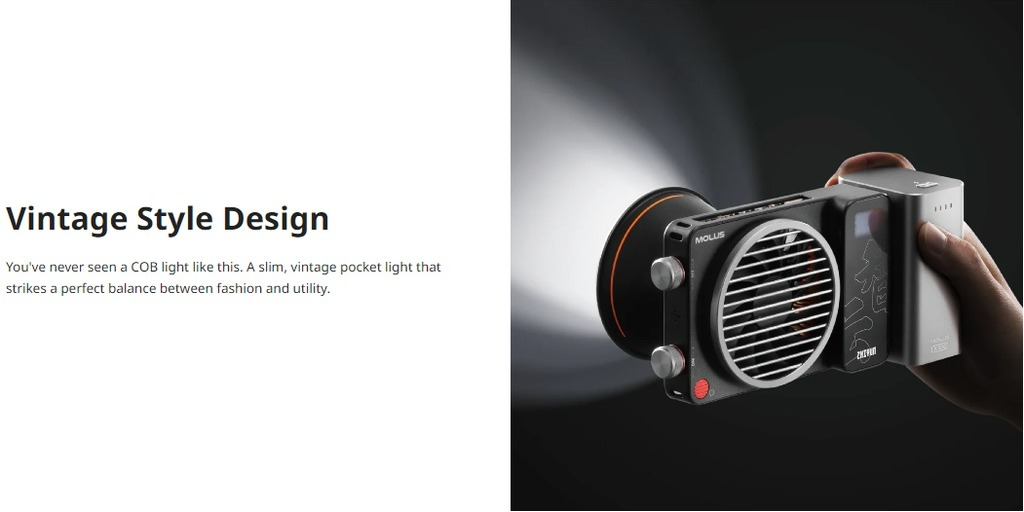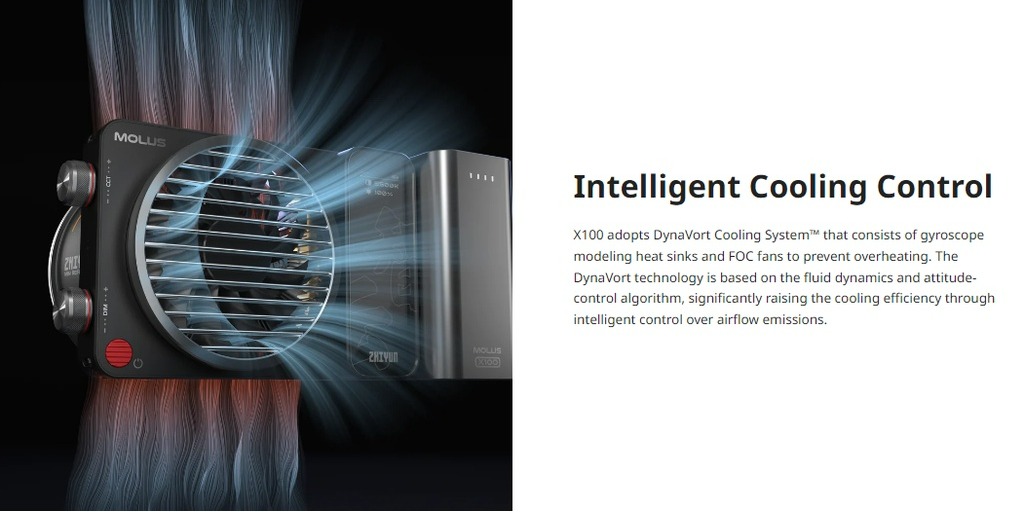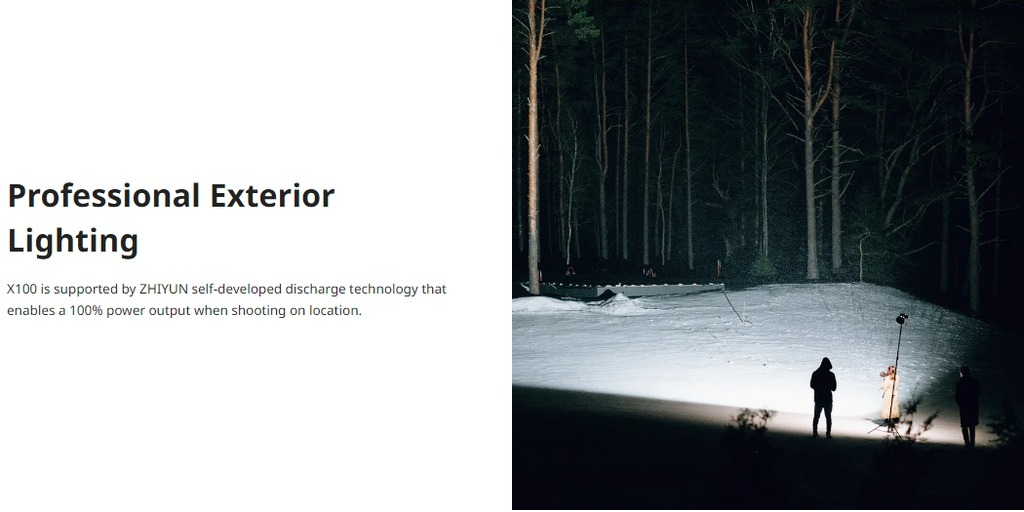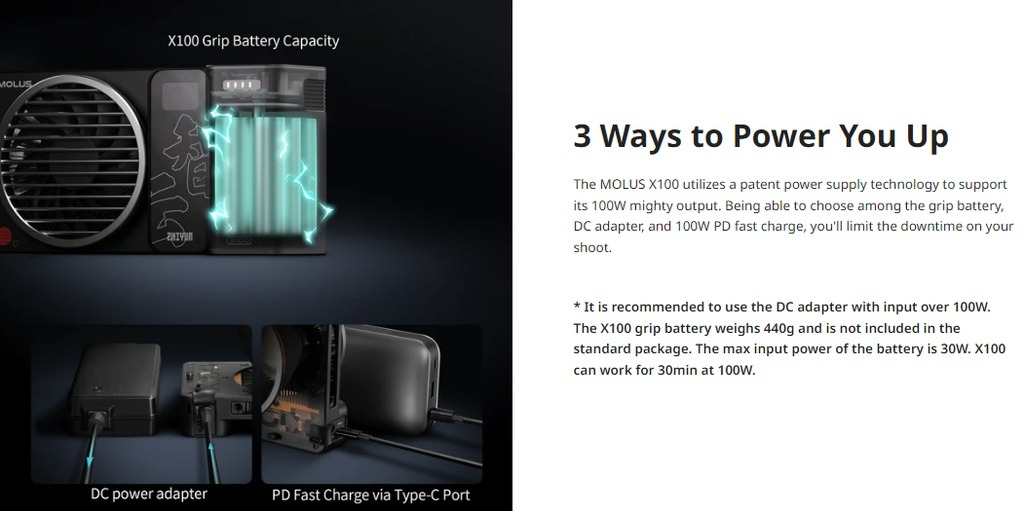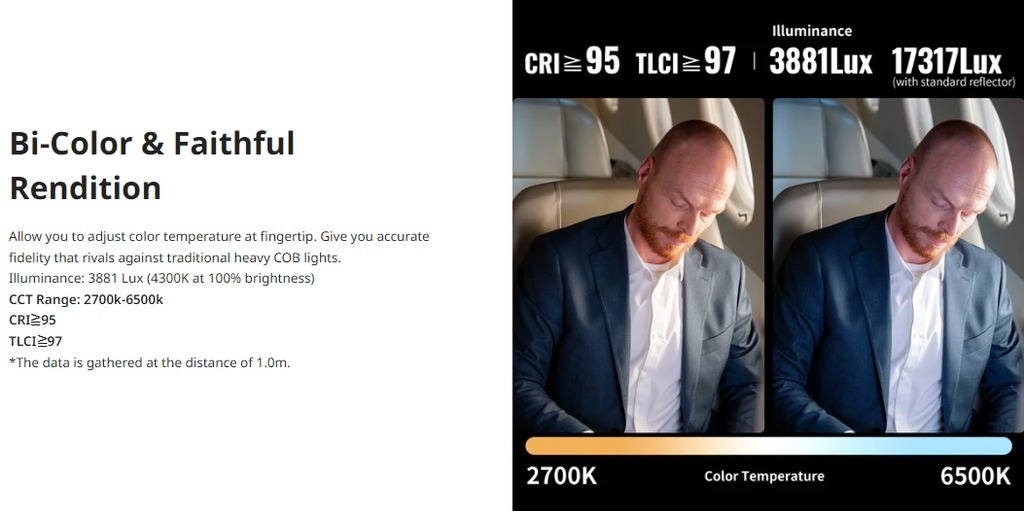 ZY Mount Ecosystem Diverse Light Shaping Solutions
The ZY mount is designed for dedicated modifiers that also compatible with ones of Bowens mount, satisfying your needs for more fine-tuned effects.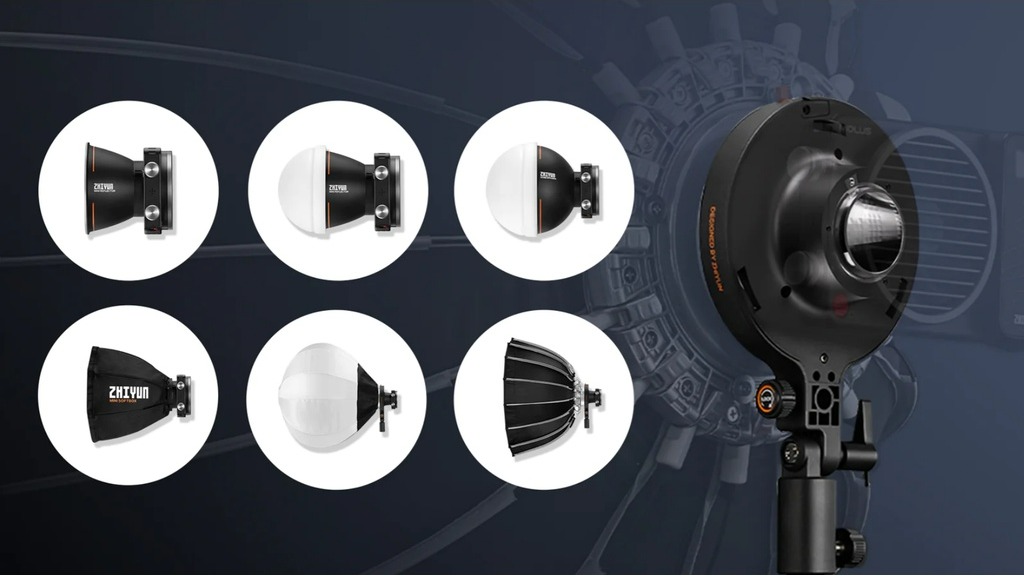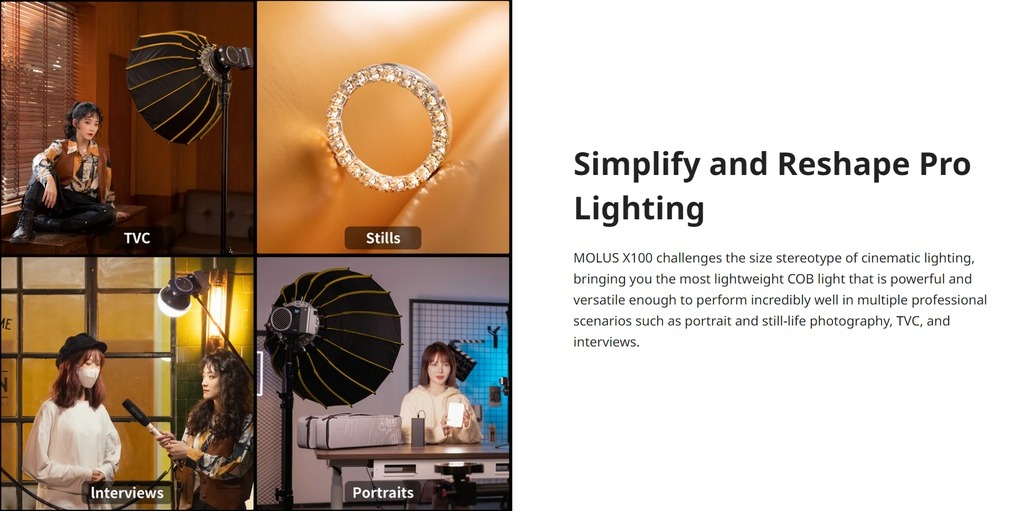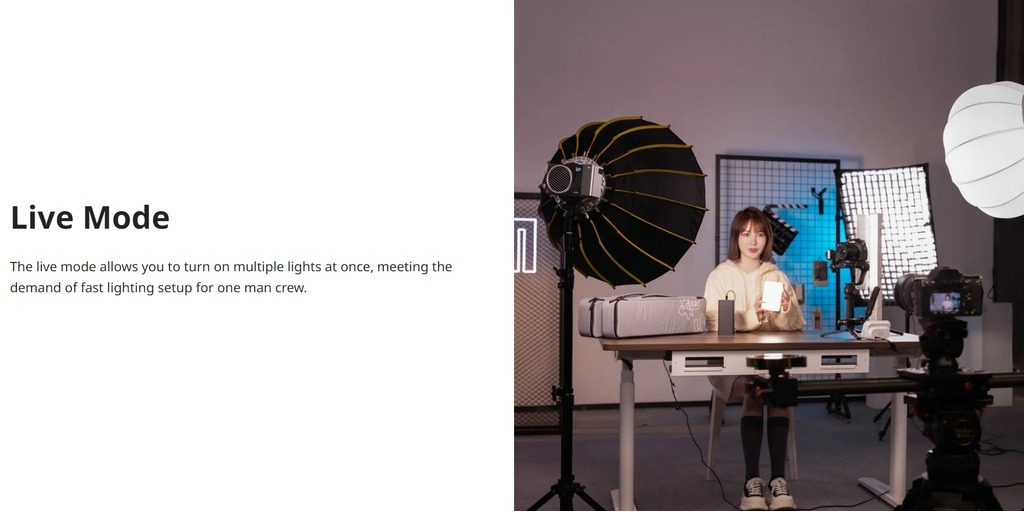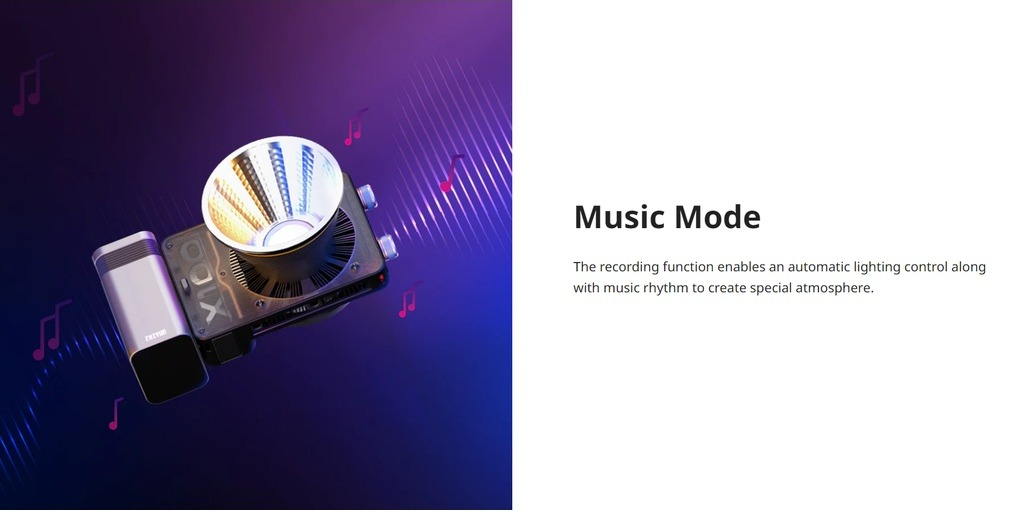 Bluetooth Mesh For Remote Control
Simplify the work flow with the bluetooth mesh to adjust the parameters by group, enhancing the lighting efficiency and convenience substantially.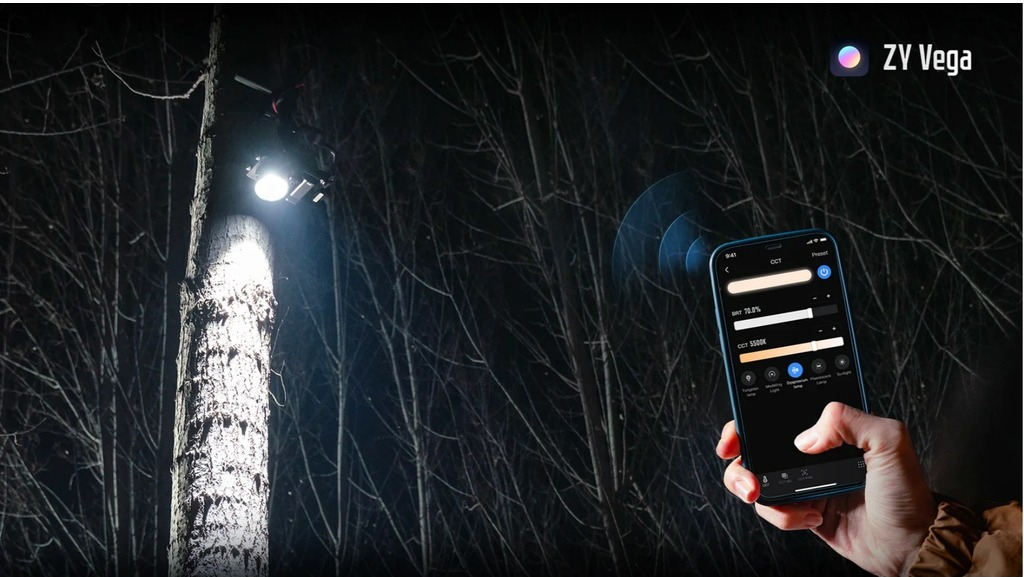 Specifications :-
Output Power : 100W
Cooling Method : Active Cooling
Runtime (with Battery Grip) : 30 min (100% dim)
Color Temperature Range : 2700K~6500K
Illuminance In 4300K/100% Brightness (1 meter) : 3881
TLCI Index : ≥97
CRI Index : ≥95
Dimming Range : 0~100%
APP Control Method : Bluetooth
Power Adapter Output Voltage/Current : AC100V~240V(50/60HZ)
Power Supply Method : PD adapter, DC or Battery Grip
X100 Size : 144.5*94*36.1 mm (W*D*H)
X100 Net Weight : 385g
X100 Grip Battery : 6*2600mAh
X100 Grip Battery PD Charging Time : 2H33MIN (19.6V/1.4A 28W )
X100 Grip Battery DC Charging Time : 2H24MIN (9.7V/3.1A 30W )
X100 Grip Battery Size : 52.8*94*61 mm (W*D*H)
Operation Temperature : -10°~40°
Extension : 1/4" Threaded Hole
What's in the Box :
Standard Package
1 x Molus X100
1 x Mini Reflector (ZY Mount)
1 x 120W Power Adaptor
1 x Power Adaptor Origanizer Bag
1 x Pocket Light Strap
1 x Quick Start Guide
Combo Package
1 x Molus X100
1 x Mini Reflector (ZY Mount)
1 x Bowens Mount Adaptor-B (ZY Mount)
1 x 120W Power Adaptor
1 x Power Adaptor Origanizer Bag
1 x Pocket Light Strap
1 x X100 Grip Battery
1 x Storage Bag
1 x Quick Start Guide
Pro Package
1 x Molus X100
1 x Mini Reflector (ZY Mount)
1 x Mini Softbox (ZY Mount)
1 x Bowens Mount Adaptor-B (ZY Mount)
1 x 120W Power Adaptor
1 x Power Adaptor Origanizer Bag
1 x Pocket Light Strap
1 x X100 Grip Battery
1 x Storage Bag
1 x Quick Start Guide